Are You Ready to Go Pro?
It's time to level up and go pro! Learn how you can take the next step on the HyperBowling adventure and get high scores.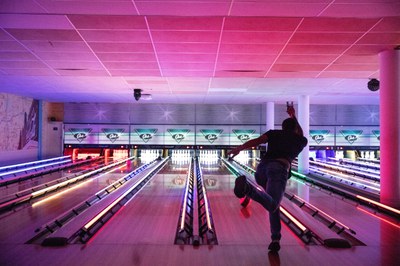 Just like any video game, there are levels.  And before you know it, you'll be crushing the levels in HyperBowl and looking for the next fun thing to do. But don't worry. Once you beat HyperBowl, you're ready to take the next step and move up to HyperBowl Pro.
For those looking for something a little more demanding, HyperBowl Pro picks up where HyperBowl leaves off and features more complex targets that move and change size. The greater level of difficulty makes this game ideal for more competitive skilled players and seasoned bowlers looking for a new challenge.
The goal is still the same, to accumulate points and unlock more ambitious levels. Each level consists of 5 challenges and again, you only throw one ball per turn. But remember to avoid the RED because once you are a pro, you'll also see that you must hit the bumper to accumulate points!  That's right, if you miss contacting the bumper with either a colored multiplier, or a blank "no multiplier" space, you won't be able to accumulate points on that turn!  More challenging?  Absolutely!
Sometimes, games just come easier to people and having the competitive juices flowing is your idea of a great time. With HyperBowl Pro, every level is action packed, and will throw you a challenge on every turn. Win, lose or draw, there is always tomorrow, and the thought of HyperBowling again is what gets you ready for the day. Because when you're HyperBowling, #everyonewins